Awareness Program on Human Rights Day I Kokrajhar Law College
Human Rights Day
10/12/2021
Kokrajhar Law College: On the occasion of "Human Rights Day" on 10th December 2021 Kokrajhar Law College Observed the awareness day on the basic legal rights of all the human being in collaboration with the Kokrajhar District ABSU and Jaharbari Unit ABSU at Soralpara.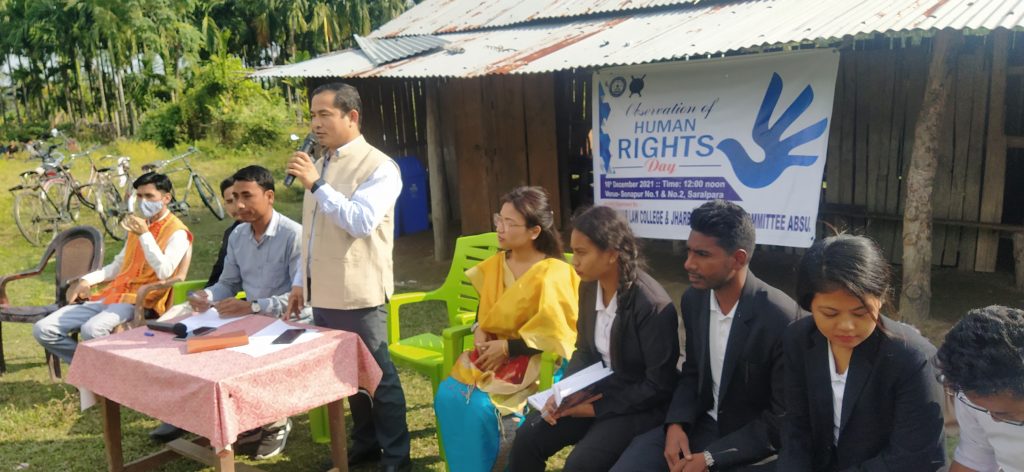 AGENDA
Guest Introduction- Bimala Basumatary, President, KLCSU
Inaugural Speech by Sri Kwrwmdao Wary, Assistant Professor, KLC
Students Presentation
Speech by the Faculties of Kokrajahr Law College
Presidential Speech by Jharbari Anchalik Committee, ABSU
Vote of thanks by President, KLCSU
The Programme was hosted by the President Jharbari Anchalik Committee, ABSU.
In the aforesaid programme the teachers along with the students of Kokrajhar Law College in Collaboration with Jharbari Anchalik Committee ABSU visited the village- Soralpara, Dist- Kokrajhar, B.T.R.
In that programme the inaugural speech was given by Sri Kwrwmdao Wary, Assistant Professor of KLC. He explained on the various issues of that particular area such as – Allotment of land pattas, Lake of Drinking water facility, Electricity, Education, Health and Communication etc. Through his speech he also tried to focus on some incidents happened in that particular area and aware them about their rights.
In this programme the students group of KLC had presented on various Human Right issues with play cards & Posters. The Presidential speech was given by Mr Parsuram Basumatary, President of Jharbari Anchalik Committee ABSU. He also explained about the various Human Rights issues and regarding the Problems of that particular area.
In this programme the Local people were also allowed to speak about their present problems/situations. After that students of KLC interact with them and also suggest them with some solutions.
   Next, the Principal i/c. Kokrajahr Law College, Miss Duhita Swargiary has given valuable speech regarding the Human Rights issues, such as Exploitation, Custodial Torture, Human trafficking, Rape etc.
    In the end the vote of thanks was given by Bimala Basumatary, President KLCSU. Through the aforesaid programme it is expected that it will be highly beneficial to all the underprivileged people living in that particular area.